Dell Power Companion (12,000 mAh) - PW7015MC - Notebook Power Bank (43Wh)

DELL Dell Power Companion (12,000 mAh) - PW7015MC - Notebook Power Bank (43Wh)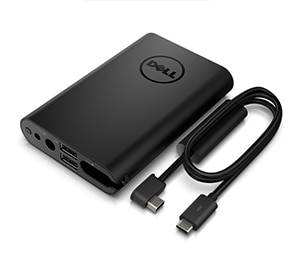 View larger
.
Portable power for USB Type-C equipped Dell Ultrabooks*, Notebooks* and tablets
The Dell Power Companion (12,000 mAh) USB-C lets you bring extra power with you, so you can be more productive. This handy device powers select Dell Notebooks* and Ultrabooks* via your notebook's USB-C port, as well as up to two smartphones, tablets or other USB-enabled devices. The Dell Power Companion is lightweight and compact, so you can stay powered on-the-go without adding bulk to your bag.
*The Dell Power Companion is compatible with select Dell computers only (with installation of latest BIOS update). Refer to compatibility section for further details.
Designed to charge devices during storage and while on-the-go
This compact power solution fits seamlessly into your mobile lifestyle by fitting neatly into your laptop case or bag. The Dell Power Companion (12,000 mAh) USB-C is designed to deliver in-bag charging, so your devices are charged when you need them. It's also specifically designed to fit into the Dell Premier Backpack and Dell Premier Briefcases.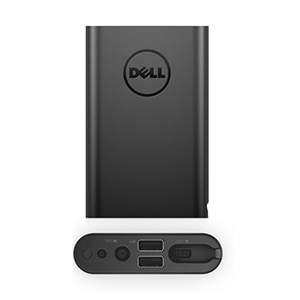 View larger
.
Simultaneous USB charging to power additional devices
The USB ports on the Dell Power Companion (12,000 mAh) USB-C allow you to simultaneously charge up to two mobile devices, in addition to your Dell notebook.
12,000 mAh battery provides reliable, powerful backup power
The compact and convenient Dell Power Companion features an 12,000 mAh six-cell battery that provides reliable power when you're on the go and is easily charged using your Dell power adapter**. The The Dell Power Companion (12,000 mAh) USB-C can be charged and powered by 4.5mm, 7.4mm or USB-C Dell power adapters. A five-segment LED clearly displays how much power is left, so you can plan accordingly.
*Please note that a Dell power adapter is required for charging the Power Companion (not included in the box).
What's in the box
The Dell Power Companion (12,000 mAh) USB-C
Dell Notebook USB-C Charging Cables
Dell input cable dongle


The Dell Power Companion USB-C lets you bring extra power with you, so you can be more productive. This handy device powers laptops via your notebook's USB-C port, as well as up to two smartphones, tablets or other USB-enabled devices. The Dell Power Companion is lightweight and compact, so you can stay powered on the go without adding bulk to your bag.



Manufacturer Part : N45GH
Dell Part : 451-BBVT
Compatibility
This product is compatible with the following systems:
Latitude 11 (5175)
Latitude 11 (5179)
Latitude 5285 2-in-1
Latitude 5289 2-in-1
Latitude 7275
Latitude 7370
Venue 10 Pro (5056)
XPS 12 (9250)





Compatible Products
This product is compatible with the following systems:
Latitude 11 (5175)
Latitude 11 (5179)
Latitude 5285 2-in-1
Latitude 5289 2-in-1
Latitude 7275
Latitude 7370
Venue 10 Pro (5056)
XPS 12 (9250)




| | |
| --- | --- |
| | Dell Power Companion (12,000 mAh) - PW7015MC - Notebook Power Bank (43Wh) |

| | | |
| --- | --- | --- |
| Price | | £85.00 |

| | | |
| --- | --- | --- |
| Discount | | £19.55 |

| | | |
| --- | --- | --- |
| Subtotal | | £65.45 |

&nbsp

Email Address:
(Limit 3 Emails separated by ',' or ';')

Please enter valid Email

Please enter 3 or less Emails

Email Message:
(up to 300 characters)


The Product has been added to your Wish List
Click here to visit your wish list